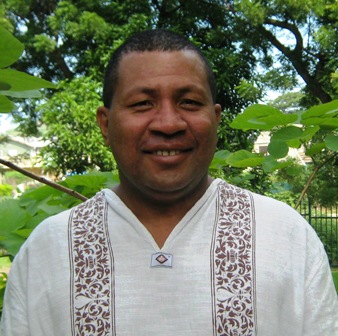 I was born on 14 July 1970 in Veifa'a village, Mekeo in the Central Province of Papua New Guinea. I am the second child of three boys and one girl. Because I was the only one who went to high school and college, my family expected a great deal from me, but God changed all that and I came to do the work I am now doing.
 
I grew up going to church. However, I did not really know who God was. After college, I was unable to find a job, so I attended the school of nursing in my village. However, before I finished the program, I left school to help my parents in the gardens.
In 1994 a friend and I became interested in the work that a Korean missionary and some of the Mekeo men were doing: translating the New Testament into the Mekeo language.  Every day, when we would be on our way to go fishing, we would stop and briefly observe them.
One day when we stopped by there, we found the Korean missionary alone.  All of the men who worked with him had realized what hard work it was to do Bible translation, and after a few months they stopped going. When we saw that no one was helping, my friend and I decided to see what we could do. After working several days with him, we decided to help him for the remainder of the time he was in the village.
 
During that time we helped him translate the book of Acts. God really worked in both of our hearts, and we kept going back. While I was doing Bible translation, I began to hear people praying in their own words rather than saying the usual memorised prayers.  I became very interested in learning to pray on my own.
After the translation of Acts was completed, I continued to help translate the rest of the New Testament. As I worked, I realised that everyone needs a Saviour.  Finally, after two years of going back and forth to Ukarumpa, the SIL centre in PNG, I accepted Jesus as my personal Lord and Savior.
 
Although there are many other things I can do to reach people with the Gospel such as preach, sing, and teach, I continue to work in Bible translation.  I think the greatest gift I could give my own people and all of the people of Papua New Guinea is God's Word in their own language, the language they understand best.
 
At first, I did not really want to do Bible translation. I just wanted to do this work in return for a job with SIL in the future. However, after we dedicated the Mekeo New Testament in 1999, I realised that God was calling me to continue the work, to give my Mekeo people the entire Bible. I figured someone has to be committed to finish the whole Bible and it might as well be me.
 
Because I, like the apostle Paul, am such a sinner, I once thought I was not worthy of this work. However God chose me from more than 20,000 people in my language group, and from among the 6.5 million people of PNG to do the work I am now doing. It is truly a great honour to serve the Lord in the ministry of Bible translation.
 
God's Word sustains me, keeps me on the right path, and brings me back when I go astray. It is the Truth and it is a Fountain of Life to those who accept it. I believe that everybody needs God's Word in order to live according to God's plan here on earth, and in order to obtain eternal Life.