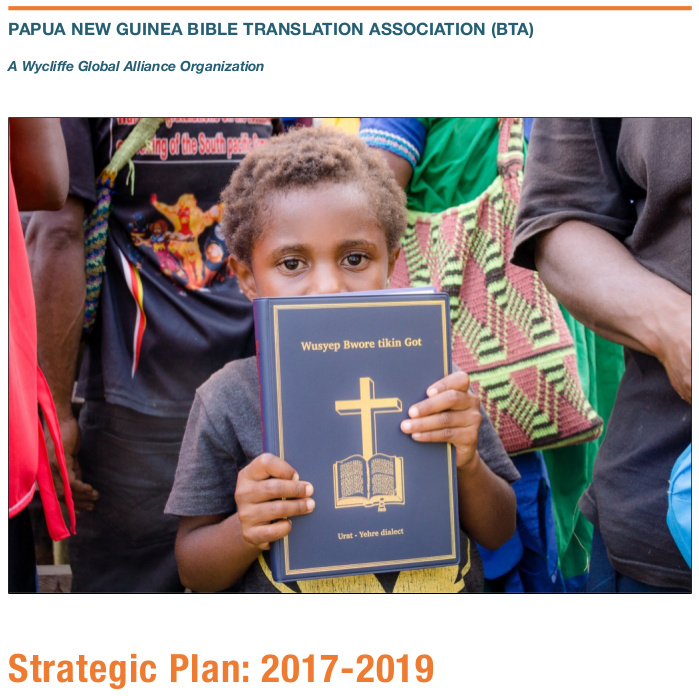 Our Mission
Papua New Guinea Bible Translation Association exists to glorify God in PNG by working with the people in providing the Word of God in their heart languages so that they become disciples of Jesus Christ, living like Him.
Our Vision
To see Papua New Guineans transformed by the translated Word of God.
Our Core Values
THE GLORY OF GOD IN PNG
➢    Our motive for Bible translation is that the people of PNG might pursue God and His glory.
CHRISTLIKENESS
➢    Our aim is to be like Christ. We do this by living like Jesus in our communities and by the quality of work we produce.
DEPENDENCE ON GOD
➢    We depend on God for everything needed to complete the otherwise impossible task of Bible translation in PNG.
PRAYER
➢    We desire to integrate prayer as an essential and powerful part of BTA's operation.
PEOPLE
➢    We value people because God uses them to accomplish his purposes.
WORD OF GOD
➢    We are committed to see the Word of God transforming the lives of the people of Papua New Guinea.
PARTNERSHIP & NETWORKING
➢    We recognise the value of partnership and networking because God's purpose is achieved by working together.
STRATEGIC ACTIVITIES
1. Bible Translation
2. Language Development
3. Partnership and Networking
4. Human Resource Development
5. Infrastructure Development
6. Resourcing and Support (Administration)
"Bible translation is a critical facet of demonstrating the gospel among those who still need to hear God's message in a language they clearly understand. We are encouraged, not only by the progress made, but by the many partners involved."
Kirk Franklin, Executive Director, Wycliffe International

 Wycliffe Global Alliance International